There are so many online doctor consultation platforms in India, most of them offer consultations within 24 hours. At Dofody, we offer a doctors consultation within 4 to 6 hours after making the payment. You don't have to worry about choosing the specialty of doctors for your illness, We have sorted it out for you. We will make sure that your consultation happens as fast as possible. This article is about how you can make a quick consultation request at Dofody . So lets get started.
STEP 1:  Go to website URL www.dofody.com, click "Login". If you aren't a registered user click on  "Register" link.
STEP 2:  After clicking Login, you'll see two options "User Login" and "Doctor Login". As a patient you are supposed to  click on  "User Login".
Enter e-mail address and password that you have already created and click on "Sign In" button.
Then you'll be directed to your dashboard as seen below. Click on "Consult now" on the left panel.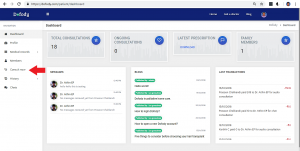 STEP 3:  After clicking consult now, you'll be directed to consult now page as seen below.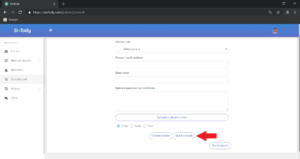 Choose the User for whom the medical help is required. If you have added multiple family members, you can choose their name from the drop down menu. In the "Present health problem" field, enter details of your current illness. You don't have to use complicated medical terms. Our doctors want you to use simple English and not Latin or other complicated words to best describe your problems. For example, fever, cough, nasal congestion, headache are some of the common words that can be used if you have pain over any part of the body try to specify the correct location of the pain. In the "Since when" field input the duration of your illness. This means enter the time since when you have been suffering from that health problem and do keep in mind to specify whether it is in hours, days, weeks, months or years. "Relevant past medical conditions" is where you have to enter your previous illness, it could be diabetes, high blood pressure, stroke, heart disease or anything else. In the "Medical records" section you can upload your past laboratory reports, old prescriptions or scan reports. This could be very useful for our doctors to arrive at a diagnosis.
STEP 4:  After choosing user and filling in the other necessary medical details for consultation, click on your preferred mode of communication (Video, audio, chat). Please note that consultation charges may differ for different routes of communication from time to time.   After selecting your preferred mode of communication click on the "Quick Consult" button as shown with the arrow below.
STEP 5:  When you select "Quick consult" a popup will appear showing the rates for different modes of communication. Click on the accept button to proceed to the payment page.
After accepting, Click on "Pay online" button as shown below using arrow in the photo below. You will be taken to the payment gateway page, where you have to  choose your preferred mode of online payment and complete the process of making the payment. After you are successfully completed the payment process, A "Thank You" message will be displayed. Now, all you have to do is to wait for our doctors response. Please note that in your desktop or laptop, closing the browser may result  in failure to make a secure connection when the doctor tries to contact you. You can keep browsing in other tabs or use other applications, but don't close the Dofody window.
These were the instructions that you can follow to make a quick consultation request at Dofody. Hope  you understood it, if you have any doubts, ask your doubts in your comment section below.