Dofody is designed in such a way that every person can use it easily. There is no learning curve and if you've already purchased products from Amazon, Flipkart you will find using Dofody even simpler. So, let me tell you how it works.
Assuming that you have already created an account on Dofody, you will first need to sign in. If you haven't created an account, you should do that first. It only takes less than a minute. You can find instructions on how to create an account on this page.
After signing in, you should be landing on a dashboard with multiple menu options. If you just want to get a doctor's consultation as soon as possible, click on the "Consult a Doctor" button as shown below ↓.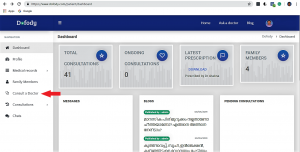 Here,

you will need to fill up small text boxes with your complaints and questions. It could be done in your own language. 
There is no need to search for medical terms. Our doctors understand your language, and they will be able to help you out. If you can provide details about when the illness or symptoms started, it will be perfect.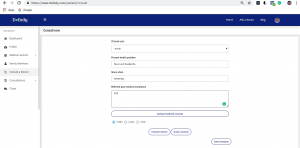 You can provide all the information that you think is necessary, the more the better.
Tap on the 'Choose Doctor' button on the bottom of this page to find a list of all the doctors who are ready to help you out.                                                                                                                                                                                                                         

                   

                                                                                                                                                                                                                                 

You can tap on each doctor's profile to view more details about the doctor.   

 

                                                                                        
You can find the doctor's specialty, qualifications and the place where the doctor works in the 'About the Doctor' section.                                                                                                                                                                                                                                                                                              Please note the time and days when the doctor has made himself available for consulting online. This is really important. The doctor will call you back only at this specified time. If the doctor tries to help you sooner, you will receive a push notification message on your phone. Different doctors have different available time slots and so, choose the doctor whose timing fits your need perfectly.
Find out the consulting fees set for each type of consultation. Each and every doctor will have different fees for video calls, audio calls and chat messages.  The default validity of a video call is 24 hours, for an audio call it is 3 days and for a chat consultation, the validity is 7 days. The validity is the same for every doctor you choose.
     After choosing the type of consultation, you just need to tap on the "Pay Online" button ↓.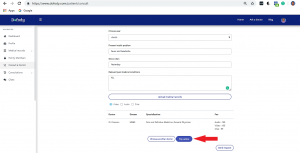 A new page will appear on your phone's screen, here you need to provide your phone number name and email address once more and then choose the method of payment. Several payment methods are now available including debit card, credit card, internet banking, and many popular UPI services like BHIM, Google Pay, etc.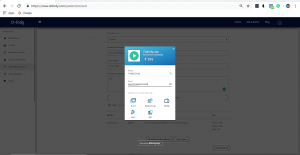 After completing the payment, you will be redirected to your Dashboard. Here, you will now be able to see the doctor's name under the "Pending Consultations" section. Now, all that you need to do is wait for the doctor to call you back! Please note that you should be connected to the internet all the time so that when the doctor tries to reach you, the connection goes through! In some circumstances, the doctor you have chosen might try to contact you earlier than the set time. But, in order to reach you, internet connectivity must be ensured on your side. Push notifications also work depending on your internet connectivity.
While you wait for the doctor's call, you can upload some important medical records. These could be your old prescriptions, your recent lab test results or scan reports. Uploading medical records is really simple and you can do it even within your app! To get detailed instructions on how to upload medical records from a computer or mobile browser, read this article. The doctor you have chosen might go through your medical reports before he starts the consultation. So, it will be highly beneficial for you as well your doctor to get a detailed understanding of your medical condition if you have uploaded these medical reports. You can feel assured that your medical records are accessible only to the doctor to whom you have sent the consultation request. Moreover, keeping all your medical records in one single place in digital format is better because you will not lose it! Did you know that you can upload an unlimited number of medical records in your Dofody account? Isn't that cool?
Completing your medical profile is the first thing that you should be doing while waiting for the doctor's call back. This is the page where your medical conditions, your height, weight, the medicines that you are taking, your history of allergy's and surgery are entered. Information's like these are like gold for the doctor who is going to help you. The more detailed and elaborate your medical profile is, the better. Your doctor will first go through your medical profile and then read all your medical records before contacting you. So make sure that your medical profile is not left blank.
If you are connected to the internet, your chosen doctor will call you at or before the pre-set time. You can ask all health-related doubts to the doctor and he will try to answer them so that you actually understand it. Beating your disease becomes easy if you know everything about it, isn't it? Dofody doctors will help you gain all the information that you need to beat the diseases that are bothering you.
So, that's it. Didn't I tell you, it will be easy? What do you think about the Dofody app? Do you have any suggestions or feedback so that we can improve it? We are trying to make it as easy as possible for everyone to use. And for that, we need your help. You can go to the "Settings"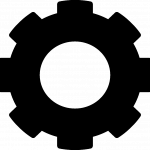 page in your app and find the "Feedback" button there. Tell us what features you liked and what features you didn't. We are constantly working on the app to make it the way you want it!
If you liked this article, share it with anyone else who you think will benefit from it while using Dofody. Follow our Facebook page and subscribe to our youtube channel to get some really cool health tip videos and articles.
If you can understand Malayalam, we have made a walkthrough video on how to use Dofody Android App, you can find it below ↓.